0227. Sade
Diamond Life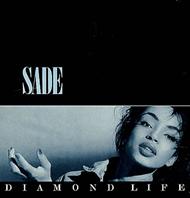 Yet another debut, Diamond Life in a way epitomises the eighties by it's heavy relying on the saxophone as the leading instrument and well, sometimes it works and sometimes it's as cheezy as could be (like the intro of the track that launched the album into the charts - Your Love Is King).

The main reason this album gets the go-ahead from me is of course Smooth Operator, which also opens the album (as well as delivering the album title in the lyrics). It's a smooth latin jazz track where Sade's husky voice tells a story about a jet-setting yuppie who's breaking hearts coast to coast.

The main reason this album almost got a no-go from me is the ending track, Why Can't We Live Together, another of the eighties-defining sort of songs where lyrics about world peace are delivered with great resolve and huge amounts of naivety. Strangely, the LP version of the album differs from the cassette version by being shorter, actually lacking two songs. Not often the extended version is on the "lesser" format.

Speaking of extended, the video for Smooth Operator also has an extended version. Following the song's narrative (as well as setting it in some kind of spy-story?) it clocks in at eight minutes.

Anyway, it's an okay, but generally very dated, album.