0522. Run-D.M.C.
Run-D.M.C.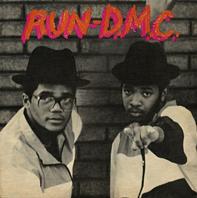 One of very few eponymous hip hop debuts (that I know of), Run-D.M.C. is the break between the old-school stylings of Afrika Bambaataa and The Furious Five and the new school, where emcees Run and D.M.C. delivers tag-teamed and near-shouted lyrics over DJ Jam-Master Jay's beat-juggling [fact check: percussions and keyboards, apparently].
Interestingly it starts off with a cover (another seldom seen thing in hip hop) of a Kurtis Blow-track (from his eponymous debut).

The rest are a bunch of enjoyable tracks where they go from bringing in a metal guitarist and doing a semi-scatted outro in Rock Box [fact check: Rock Box was the first rap video aired on MTV!], to some classy bragging in Sucker M.C.'s (with rhymes about going to college it's all good).

The hit song It's Like That (many years later remixed with a meh by some talent lacking sucker DJ I can't even remember the name of right now) is a b-boy favorite and I can't help but get a bit sad when the "2 emcees and 1 deejay"-type track Jam-Master Jay goes by - less than twenty years later the focal point of the song would be gunned down in the studio for being at the right place, but at the wrong time.

Damn it.