0038. The Birthday Party
Junkyard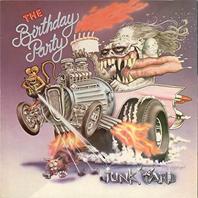 Talk about false associations. When this band came up in the book I immideately got the sound of The Radio Dept. in my head, but it was easily dispelled by taking an extra gander at the sleeve (by Ed Roth) and actually listening to the album. Cause this is far more Dead Kennedys than Swedish indie: competent (post-)punk with grinding guitars (if not as feedbackinfused as yesterday's The Jesus And Mary chain, which by the way cites The Birthday Party as an inspiration), a heavy rhythm section and since the vocals is handled by Nick Cave it's dark, difficult lyricwise and matching the music very well.

Junkyard is a well-rounded soundtrack to a movie yet to be made. Some of the tracks have a distinct jazz feel and in some places a rockabilly guitar peeks through (and I guess that that's what makes it post-punk). They keep a good balance between insane and poetic ramblings as well as violent and laid back music. Perfect for sitting in darkness concieving plans to stalk your ex.