0220. Sly & The Family Stone
Stand!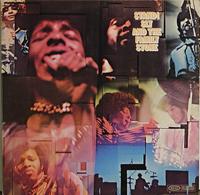 Sly Stone and his family of friends and lovers hadn't gotten the breakthrough they so well deserved with their previous releases, but this one took a stand in the charts and sold half a million copies within the first year (by today's standards maybe not so much, but back then it was enough to make it one of the most successful albums of the decade).
Dwarfing that feat is of course the fact that this is a definite GotToGet.

Contrary to my trend, however, this is an album where the shorter songs are the greatest.
The title track is strong, powerful, but still a smooth ride urging you to, that's right, take a stand for what you believe. Somebody's Watching You is paranoid, but still grooving (and maybe foreboding of Sly and the family's oncoming deterioration) . Sing A Simple Song have been covered by everyone from The Jackson 5 to Miles Davies and sampled by everyone from Wu-Tang Clan to De La Soul to the Gorillaz - come to think of it so has most tracks on Stand!, like Everyday People: heavily sampled in (at least the video version of) Arrested Development's People Everyday and also a rare gem, clocking in at just 2:20.

A fantastic breakthrough album by a fantastic band.