0346. The Bill Evans Trio
Sunday At The Village Vanguard Featuring Scott La Faro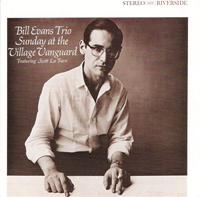 Again with the names and facts! 1001 Albums You Must Hear Before You Die is seriously worse than your gramps with Alzheimer's in getting the names straight. Only crediting this release to Bill Evans instead of to the whole trio they once again prove they didn't proof-read the book (or, you know, look at the bloody cover image!). The reason bass-player Scott La Faro gets an extra credit on the cover is that he died in a car-crash just ten days later, so, well, I think it's just disrespectful to leave him out.
This time they (once again) didn't even list the right album, but a re-release with bonus tracks (thus it's not as huge a miss as the Fats Domino disaster, but still).

Sunday At The Village Vanguard is a live-recording composed of music from five different (well, more or less different) shows the trio did one Sunday at the Village Vanguard club. As a homage to the lost member Bill [who'd made his name playing on Kind Of Blue and more] and the producer chose the tracks they considered best feature Scott's talent and skill.

As I'm not so well versed in the post-bop world I can't really tell the expertise, but I can tell you that it's a seamless album and a very welcome break from the rock that dominates the list.