0051. Fats Domino
This Is Fats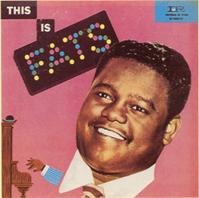 Piano-based R&B (that's rhythm and blues, for those of you just tuning in from Rihanna-land) from the late fifties. As with much on this list this far This Is Fats is an album aimed at the the dancing public. Maybe not genre-defining, but probably genre-topping and first and foremost it's a nice album too.

The only downside is the backgroundsingers on Valley Of Tears with the oo-ing... The type of singers who showed up from time to time in the 50's and 60's R&B-songs and just made it sound so dull. They take away from the song instead of conributing. Luckily they're not that frequent and when they appear they're seldom prominent.

My absolute favourite track is It's You I Love, slightly uptempo and very cosy, and I suspect many a pomade-styled young man successfully used the song to get a kiss or two from the ladies (well, probably more than that). Myself I dream away to the oncoming honeymoon with my wife (it'll happen any year now, she's starting to get anxious)...

However! After reading the books entry on This Is Fats I got to wonder if they really know what they're doing. They've posted the title as well as the cover of This Is Fats from 1957, but the review is about his '56-album This Is Fats Domino, so: I've reviewed the wrong album due to someone messing up.
That's life...