0292. The Charlatans
Tellin' Stories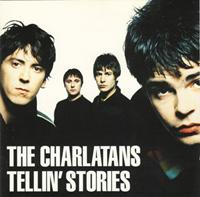 Tellin' Stories echoes of The Charlatans' origins in the Madchester scene alongside Happy Mondays, but the downside of the album is that it also shows off the Brit pop-route they took after that - it's not difficult to see why they were Oasis' opening act: in some of the songs (like North Country Boy) there's such an overlap that I'm note entirely sure if it' The Charlatans or Oasis I'm listening to.

Another album marred by fatality, Tellin' Stories contains the last recordings of The Charlatans' original keyboard player Rob Collins and I haven't found any info about which tracks he appears on, but I'd like to imagine it's the better ones where the psychedelic organ is in full effect.

Lauded for the lyrics it's ironically the instrumental Area 51 that's the best of the best on this album.