0063. Oasis
(What's The Story) Morning Glory?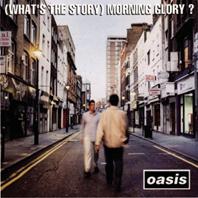 I knew this day would come, when the Random Page Generator selected this from the dungheaps of "why the hell did this top any charts-albums that I just knew would be in the book.
This is the band that, for me, epitomized the term "lowest common denominator" (as well as "unibrow") and this is an album I despised already at the release.

But I did my do and listened thru it. Twice.

I'll have to admit that not all tracks are as bad as I assumed (no, I've never heard the whole album before since I've never had any reason to do that to myself). The first one, Hello, is even kind of okay rock, but then comes Roll With It and Liam puts it into the next gear of whineyness and it... meh, doesn't work as good. Then of course there's all of the Beatles / Lennon pastiches that Oasis've built their brand on (and for which they ought to get beat up for more often) and it's even worse than that: it's pure plagiarizing.

I understnd why the hit-list public bought the album: it's long vowels in the choruses and the choruses are long and tedious with lyrics consisting of an appropriate amount of nonsequiturs which the listener can fill with everything they want them to mean (come on, you know it works). The songs that were released as singles all have one thing in common: they're hard to get out of your head. Not due to them being especially great, but due to having remarkably efficient song-hooks (despite, or thanks to, the whiney delivery) Also they manage to commit a Creed in Cast No Shadow by making a song whos' instrumental track sounds suspiciously like one of their other songs (in this case: Wonderwall).
Another example of the sub-par writing can be found in She's Electric which lyricwise borrows heavily from the British tradition of tongue in cheek songs, but combines it with their "own" tedious rock. Like if the TV-version of The Monkees would have sung their stuff over a half-assed Nirvana-track.

In conclusion I'd say What's The Story Morning Glory is a heavily overrated album, but then again: I didn't like it from day one.