0265. Neil Young & Crazy Horse
Rust Never Sleeps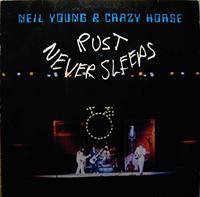 Apart from the sleeve looking like it was made partly in MS Paint Rust Never Sleeps is a good album. It's also the fifth album with Neil Young that's popped up since the start one year ago.
The modus of the album is a journey from the acoustic to the heavily disted. A sort of full circle album, this begins with My My, Hey Hey and ends with Hey Hey, My My (yes, it's versions of the same song) and infamously misunderstood by millions, Hey Hey, My My (Out Of The Blue) was also quoted in Kurt Cobain's suicide note (leading to a mild case of angst in Young).

An nice touch is that the album is mostly recorded live (seven of the nine songs), with studio-overdubs added later on. The acoustic side, however, is slightly better than the electrified B-side.

Neil sings as cracked and broken as ever but some of the songs doesn't really hit home. Sedan Delivery (the second to last track) just feels odd and Welfare Mothers has a glam-rock feel to it that I'm not too sure I like, but it's also a song that gets it's hooks in so I bop along with it anyway (a strange feeling).

Hey Hey, My My (Into The Black) could have done without some of the backing vocals (the versions where they're either missing or not that high in the mix are massively better), but besides that it's a grand finale.
Also, it's a pretty good song to celebrate the start of the second year of 1000 Albums + Some More!