0133. Neil Young
Tonight's The Night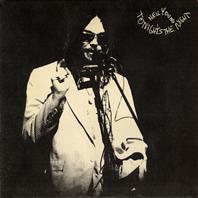 I'm almost ashamed to say it, but I just don't feel this album.
In spite of it being an outlet for emotional distress (his friends band member Danny Whitten and roadie Bruce Berry both succumbed to overdoses a couple of months before the album was recorded) and expertly played music I just can't seem to lose myself in it.

Somehow Young's lost the charming tone of the broken voice and at times it feels just as if he simply can't sing. And that, sadly, gets in the way of me hearing the lyrics for what they are. I think I'll have to get back to this at some later date and listen if there's been a change.

I wonder what the rumoured original version sounds like...