0892. R.D. Burman / Bappi Lahiri
Shalimar / College Girl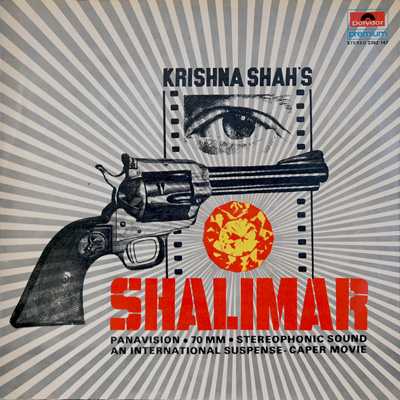 My first thought when checking the basic info for this album in 1001 Albums You Must Hear, was wondering if this was a predecessor to Speakerboxxx / The Love Below due to it being a double album divided between two people.
My second thought was (again) wondering what the hell the editors of the book were smoking, cause I seriously can't find a trace of this actually being an existing album released in 1975 other than the book itself.

The only album I find is Shalimar, released in 1978 (the same year as the movie it's the soundtrack of), so I guess this is a review of half an album. [fact check: turns out that 1001 Albums only listed the double album due to it being the only one they got hold of, and doesn't give a rat's ass about the College Girl disc]

The Bollywood funk that opens the album could probably be one of the coolest sounding things you can have in your headphones. If I'd venture a guess, it's that this is the (double) album that caused the West to fall in love with the genre (which makes its return to the charts semi-regularly), cause this is in some ways promising more action than some classic Blaxploitation soundtracks. In the Romantic Theme there's an echo of the Persuaders theme and in One Two Cha Cha Cha there's a more overt "borrowing" of lines from KC And The Sunshine Band.
And so it continues: phrases (both verbal and musical) are rummaged from the big book of Western hits.

At the last minute finding one song from the College Girl soundtrack I can assure you that Burman's not the only one to steal some: Bappi Lahiri's Everybody Dance With Me rips the iconic bassline from In-A-Gadda-Da-Vida.

Kind of ironic that thirty-five years later there's a couple of hip hop / R&B artists who've taken parts from Bollywood tracks and got their copyright infringing butts handed to them.