0843. Primal Scream
Screamadelica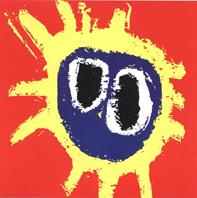 Hmm, I didn't expect this. While I knew that Screamadelica wouldn't sound like Vanishing Point (which I henceforth will consider part of their dark and gritty reboot) I didn't think I'd enjoy the gospel influenced Movin' On Up as much as I did.

But then there's the house.

Creeping up into almost everything, it's the worst in Don't Fight It, Feel It - a track that makes me understand why the Brits decided to have an anti-rave legislation against "repetitive beats".

On the far brighter side is the bassline in the second part of Higher Than The Sun (A Dub Symphony In Two Parts) is simply magnificient!
In fact, that later half is one of the high points of the album.

But that's it: one and a half songs doth not an album make.