0806. The Jimi Hendrix Experience
Electric Ladyland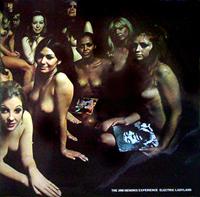 The chorus of Crosstown Traffic has always annoyed me. There, I said it and can't (nor will I) take it back. I can't stand it!

The third and final installment of The Jimi Hendrix Experience on vinyl is a double album with their two longest tracks (Voodoo Chile and 1983... (A Merman I Should Turn To Be) - clocking in at fifteen and almost fourteen minutes respectively) and a couple of their most famous ones.

Showing once again that musicians seldom has creative control of their albums both the American and British label chose to ignore Hendrix' stated request for album cover and instead produced (respectively) one with Jimi's head in red and orange tones and one with nineteen naked ladies instead of the less boastful "hanging out with kids on an Alice in Wonderland"-sculpture (and it seems Jimi was as embarrassed by the nekkid ladies cover as I am).

The recording phase was a bit chaotic, with the trio falling apart and Hendrix letting just about anyone he knew jump in and take a stab at participating, and the result shows it.
Cause in the middle of all the psychedelic blues rock there's suddenly Little Miss Strange, a genuine Sixties pop song with harmonies and all (and bassist Noel Redding on lead vocal duty), and some of the other tracks are not exactly what I'd call top notch (Voodoo Chile actually loses it a couple of times).

Also, a technician apparently almost renamed the album Electric Landlady but the error was noticed before shipping the final version.

On the Jimi Hendrix Experience-list, this places itself firmly between album two, Axis: Bold As Love, and the GotToGet debut Are You Experienced? as the two tracks that maybe represents Hendrix the best in the minds of the majority - the Dylan cover All Along The Watchtower and Voodoo Child (Slight Return) - show up second to last and last. And both are fantastic tracks, making up for any and all hesitations about the album.

Götterdammerung!