0778. Missy Misdemeanor Elliott
Supa Dupa Fly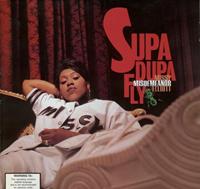 Taking a huge chunk of help from (then) more famous colleagues, Missy Misdemeanor Elliott debuted in the second verse of the second song of her first album.

So there's a lot less confidense than shown on her fourth album (only natural, I suppose), but it's not the only difference: here there's not even a slight claim of being feminist, so I don't get the same feeling of total fail when she goes from semi-empowerment to dumb-ass ignorance.
Well, in part at least, cause the more I listen to it the bars she's pushing out there, the more I feel she's just pulling them out the wazoo.

But going back to the collaborations, most of them are fairly good, but the fact that there's only five out of the seventeen tracks where she's the only lyricist again implies she's not trusting her material - which she should, as Sock It 2 Me and The Rain (Supa Dupa Fly) are the strongest tracks on the album (while still not so brilliantly written).

Getting down to the bottom line, the main reason for this album's success is Timbalands production. Cause for its time it was some of the most innovative stuff around, and even sixteen years later it's pretty cool. Not often you hear that on a mainstream rap album.