0774. Primal Scream
Vanishing Point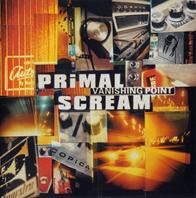 Up front I've got to tell you I really like that they've got a cover of Motörhead (as in Motörhead, the theme song for the band Motörhead) on this.

Sounding more like a light-version of Ministry than something belong on a top 1001 list, this Primal Scream album is probably here more due to that the band kind of started out as a side project for The Jesus And Mary Chain's drummer, who later left TJAMC to be full-time singer in Primal scream.

Sadly I can't really get a grip on what they're trying to do here, but it's not very interesting. It seems like a lot of good intentions were thrown into the mix and it didn't turn out as they'd hoped.

And what about the Motörhead track then? Well, unfortunately it leaves me wanting something more rocking than the loops and distortion they give me.