0753. Traffic
John Barleycorn Must Die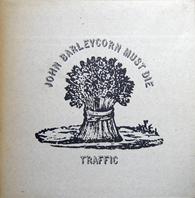 Traffic had broken up after three albums, but just a year later they reformed and released John Barleycorn Must Die - a blues rock, folk and progressive vinyl that is better than the genre mishmash makes it look like

Opening instrumental track Glad is a jazz influenced rocker, almost seven minutes long, that's not like anything else on the album. That pattern repeats in the prog-ish Freedom Rider (which I may have dubbed prog only due to the flute in it).

The folksong they took the album name from, John Barleycorn, is a gruesome tale about the murder and devouring of poor John, a story that's actually a recepie for making barley into beer or whiskey. Fun stuff.

This proved to be their most successful album, and rightfully so. It's fascinating to listen to.