0742. David Bowie
Station To Station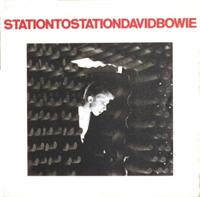 Ths could possibly be his second best album yet. And since it's his sixth on the list you could probably say that I mean it and can back it up.

Where the previous album, Young americans saw him trying on a suit that didn't fit, Station To station sees him going to the tailor's and getting this writer a bit too involved in the metaphore. So. Anyway. Here Bowie takes a bit of the sound from Young Americans, dashes in a wee bit of his old glam, and (maybe not as surprisingly as you might think) some German avantgarde too.

The result is one of the more listenable albums he's put out there. Maybe not as good as Heroes, but he was working his way there, this time in the persona he called The Thin White Duke.