0715. Electric Light Orchestra
Out Of The Blue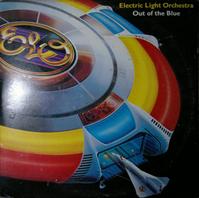 For the first ten seconds you almost could be fooled into thinking this is another Hawkwind album, but just moments later it's revealed to be a whole lot of a more "friendly" pop sound.

There's no elaborate ten-minute excursions here, and the only really elaborate "it's the seventies, let's do something epic!" material is the Concerto For A Rainy Day-suite of side three, consiting of four tracks about, well, a rainy day, ending with the sun coming out in Mr. Blue Sky (the one track I recognised from the album).

Statistics that kind of jarrs me is stuff like this: Electric Light Orchestra's seventh album was pre-ordered in four million copies! That's a helluva lot of vinyl rolling off the presses, especially as it's a double LP.

It doesn't give me a ginormous experience, but it also doesn't seem as long as seventy minutes. Time just passes by like a breeze on a slightly cloudy day.