0703. Metallica
S&M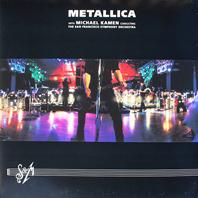 Taking another step away from the thrash metal, this team-up with the San Francisco Symphony is a very special concert, blending classic Metallica hits (and some more) with classical arrangements.
Starting with Ennio Morricone's The Ecstacy Of Gold is the tradition of the Metallica live sets, and having it with full orchestration instead of just a recording is a wholly different thing.

It takes about fifteen minutes for the first vocals to be heard, as the show continues with the instrumental The Call Of Ktulu, and it's Master Of Puppets. Unfortunately the interaction between the crownd and the band isn't as good on record as it probably was live, cause a lot of the lyrics are lost to non-working call and response-type shouting.

Giving The Thing That Should Not Be an intro along the lines of a fifties' horror movie is a very nice touch. And speaking of intros, I strangely enoughget a bit giddy by the intro of Until It Sleeps, and oh, shit! The arrangement during the sentence "Take a look at the sky just before you die / It's the last time you will" in For Whom The Bell Tolls just kills! That moment kicks the glockenspiel-infested song into a whole new level.

With twenty-one songs of course all of the versions can't be successful mashups, but even the weaker ones seem to bring something to the track - like the James Bond-feel of Devil's Dance. Even the Load / ReLoad tracks sound great!

I'm not sure if you've got to have this triple LP, but I'm damn sure you've got to listen to it at least twice. But I wish they'd skipped the outroduction of the orchestra (or at least that James'd quit the Yeah!'s while speaking).