0679. Deep Purple
Machine Head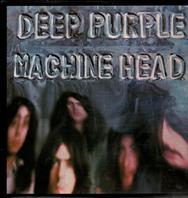 Just seven of them, and there's not a bad song on the album. And it just dawned on me that the intro of Highway Star bears a strong resemblance to something by Led Zeppelin and a couple of others, but that's just an aside. The song itself is a helluva rocker, with playful solos blending rhythm'n'blues and classical, making it pretty irresistable.

Pictures Of Home is the only track that feels the least bit metal-thematic in the lyrics, but it ultimately just is about wanting to get out of the studio.

The classic Smoke On The Water, with one of history's most recogniseable riffs (and lyrics that name checks Frank Zappa) opens the B-side and was in the beginning planned to reference smoking drugs. Lazy is a blues put in the company of instrumentalists who enjoy meandering, and Space Truckin' is the space rocker (though not as cool as Hawkwind's stuff, still a good song).

Machine Head's actually a pretty lightweight album: there's no political or societal statement, no deterring musical artsyness, but just straight up (and heavy) blues rock, paving the groundwork that acts like Iron Butterfly and Blue Cheer had done.
Damn close to be a GotToGet!