0678. Roxy Music
Country Life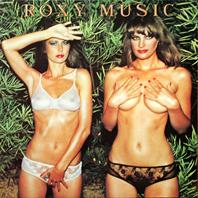 This picks up right where their debut left us, and as this is the fourth album by the group, I'd say good job on consistency! But then again, it's only two years between them, so maybe not much had changed.
Oh, right, both bassist Graham Simpson and electronics man Brian Eno had left.

Well, that speaks volumes for the integrity of the band, or maybe of the control writer / composer / singer Bryan Ferry practiced.
A dash of mideval sneaks in again with Macay's oboe in Out Of The Blue, and flourishes in Triptych and is just as nice a return as it was a surprise on the debut.

If It Takes All Night is a strange bird, though as it's a track that sounds like a Roxy Music adaptation of fifties' rock. I'm not really sur I like it. All in all, Country Life is maybe not as entertaining as their last entry, but I still enjoy it - it just gets me going a bit wierd.

And Ferry's so frigging full of himself.