0647. Merle Haggard
I'm A Lonesome Fugitive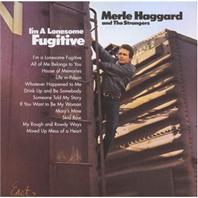 One of the pioneers of the "Bakersfield sound" and moving into outlaw country territory, Merle Haggard honked the honk and tonked the tonk on this one, his first chart topper.

Getting back into music due to Johnny Cash's legendary gig at San Quentin while Haggard was an inmate there, it's no real stretch of the imagination believing Merle's got the history to back up his stories (even though he "only" served time for burglaries, assault and robbery, not murder).

Not as slick as the Nashville sound, this struck a chord with both the traditional country folks as well as the counter culture crowd, getting one of the tracks, Life In Prison, covered by the Byrds on their (in my opinion less than great) Sweetheart Of The Rodeo among other things.