0629. Eurythmics
Sweet Dreams (Are Made Of This)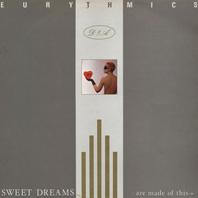 The Eurythmics had all but given up and were actually breaking down (and up) when the title track came about.
Singer Annie Lennox has a powerful, almost relentless, voice, and the tunes that Dave Stewart knocks out of the synthesizers match it nicely.

And to get back to that whole genre-thing I've been ranting about from time to time, this is called New Wave, just like Elvis Costello and Echo And The Bunnymen, none of which are sonically similar.

This is synth pop, but not the sterile variant. Listening to This Is The House the bass pops out as quite funky, and there are some other very organic melodies here and there.