0628. Aerosmith
Pump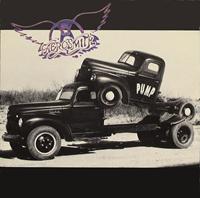 So, Aerosmith again, with their tenth album, released some fourteen years after Toys In The Attic, and four years after Run-D.M.C. helped them back to relevance.

This is also their second best selling (just a million shy of the aforementioned Toys...). And one major reason to hear this album is Janie's Got A Gun, a song that's so damn unlikely for them (and the rest of the mainstream rock scene) to have released at that time. I mean - a song about incest and the victim killing the perpetrator? Performed by a band whose major lyrical output was (consentual) sex, drugs and rock'n'roll? Not exactly what you'd think it'd be a MTV hit, but it damn well reached the top of the charts.

The rest of the album is a mix of rock-tracks interspersed with hillbilly-esque country, and in the last track (well, if you don't count the outro), What It Takes, we can hear the predecessor to songs like Crazy, I Don't Wanna Miss A Thing and the rest of the lot.