0618. Drive-By Truckers
Southern Rock Opera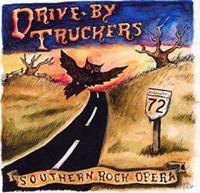 [* I started writing this during my first listen, so some parts are, well, live reactions as I heard it, while other parts are a bit lessspontaneous]
I was kind of expecting somethinbg along the lines of Ryan Adams or Lambchop, so when the opening 10-20 seconds are something that could have come from a Ministry sample bank, I'm enticed.

The Southern Rock Opera is an ambitious effort to explain the American south to us who only know it from the redneck stereotypes on TV, set to the backdrop of Lynyrd Skynyrd's tragic last flight.
One of the earlier examples of crowdfunding an album, the Southern Rock Opera didn't have backing by a label or distribution company until half a year later when demand for it got larger than the band could handle themselves.

This is an hour and a half run-down of growing up South - racism, stereotypes, car crashes, pride (and, yes, prejudice). And while I'm not entirely comfortable with hearing the words "the South will rise again" sung with such conviction, even though I know it's just a character saying them. But that just shows how well written this is.

Parts of the speech in The Great Alabama Icons quite frankly sends chills down my spine and* HOLY FUCK! The ending! The lyricism of Angels And Fuselage is just. Wow.