0589. Dr. Octagon
Dr. Octagonecologyst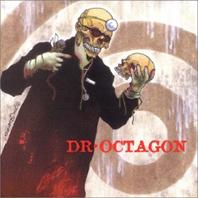 To live one day in the mind of Kool Keith must be a very bizarre experience (even without the fact that you'd be, you know, inside another person's brain). This, his solo debut after his crew Ultramagnetic MC's went on hiatus, is putting a frog in a blender while it's doing a pretty nifty beat poetry recital.
Makes sense? No? Good.

Lyrically there's some similarity to the wierdness of The Soft Boys, i.e. it can go whereever the hell the listener isn't looking at the moment - I'm still blindsided by some of the turns.

With the intro and some skits picked from blue movies, this probably isn't the album to play to your grandparents, but the music and rap's fantastically wierd. Dan The Automator's production and Q-Bert's scratching combines with Kool Keith to make one of hip hop's definitive albums.
Defining the surroundings by being in stark contrast.