0576. Paul McCartney And Wings
Band On The Run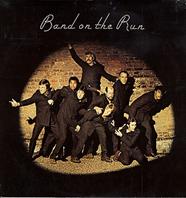 First a bit of almost copy paste: Band On The Run is Paul McCartney And Wings' third and most successful album. It's also the album people say is Sir Paul's best ever since the Beatles [yep, even in 1001 Albums...].
With the above in mind I kind of dread to listen to his other solo / almost solo work. No, it's not that it's bad.

It's just that it's so bland.
There are of course skilled pop melodies and there's an obvious craftmanship all over it, but there's just no nerve. Compared to former bandmate Lennon it's no wonder why one of 'em's a legend (albeit dead) and the other's not recognized by the younger generation(s).

Some bonus trivia about the recording, though:
As they were recording in Nigeria, Fela Kuti dropped by and accused them of stealing the loval music, but was calmed as he heard the tapes.
I kinda wish he'd been right in his suspicions, cause some afrobeat in here would probably have made for a better album.