0575. War
The World Is A Ghetto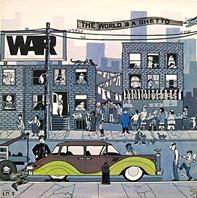 War started out as Eric Burdon And War, partly to give the ex-Animals singer a next step in his career. But as he soon moved on, War had the option to dissolve into obscurity or continue and build something of their own.
If they'd not chosen the latter they'd probably not be on this list.

This is their third album after Burdon's takeoff and by this time they'd proved they could handle their own. It's funk with latin influences, but without the excesses of Santana and more focus on a steady groove.

While the lyrics kick in some socio-politics, War still often let the music do the talking, leaving a lot of the tracks instrumental, and growing way past the five- or even ten-minute mark.
Losing the lead singer often is the death of a band, but sometimes it's the chance to go for greatness.