0531. Nirvana
MTV Unplugged in New York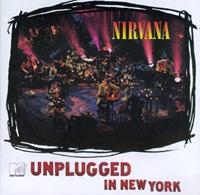 The first Unplugged-album on the list and I expect that it won't be the last. This, however, is one of the top ones. Cause instead of doing a best of-gig, Nirvana chose a narrower path.

Sure, this session shows Cobain's limited vocal range, but at the same time it displays the band's wide range of influences - both contemporary and from the past. Of fourteen tracks only eight are Nirvana originals. The rest ranges from David Bowie to Leadbelly. Not mentioning Letting the friends in The Meat Puppets sit in on a rendition of three(!) of their songs.

And while Kurt's straining his voice a bit too much on Pennyroyal Tea's refrain and having too much of a faux-twang on Lake Of Fire, his voice cracks in just the right places.

Recorded in November of '93 and released a year later, just seven months after Cobain's suicide, this was of course an instant top seller.