0521. The Verve
Urban Hymns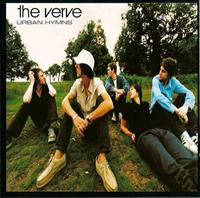 After splitting up and reforming after their second album, The Verve hit it big with this, their third. And this is the last death throes of Britpop as we knew it.

Thing is, this suffers from a similar condition that Is This It's got - the more you hear the songs, the less you like them. The difference here is that I have a hard time liking this lot from the start.
There's a couple of songs that are okay, though. The psychedelia of Neon Wilderness is a welcome break and there's one or two of the softer songs that are quite alright too. But mostly, it just gives me too much Oasis-vibes.

It ends with a faux-jam in the outro of Come On (okay, so there's a hidden track too, but you know what I'm getting at), a "yeah, we're really cutting loose here at the end of the album"-move that's just as boring as, well as reading this sentence.