0518. Eagles
Eagles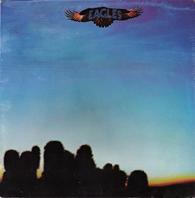 So, the Eagles.
With an eponymous debut.
An eponymous debut that's one of the furthest excursions into easy-listening this far, so it's no surprise that two out of the three hits off this one are called Take It Easy and Peaceful Easy Feeling. The third one is Witchy Woman and is to the thematically similar Black Magic Woman what Twilight is to Dracula.

Mostly it's the songs played as the last dance, or after the end of the party, when there's one sad figure feeling like the lonliest number.
Not even the edgy rock songs are edgy or rocking enough. It's well played, but it's just ...weak (but the harmonies are nice, though).