0494. Genius/GZA
Liquid Swords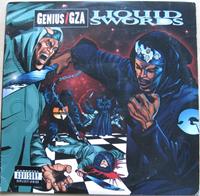 Damn! The team-up GZA/RZA is brilliant indeed!
The only one of the Wu-Tang Clan to drop a solo album before their collaborative debut, Genius / GZA stepped up the game with Liquid Swords, his second outing.
This is is the Wu-Tang without shits'n'giggles, cause there's no-one smiling here.

Lyrically it's better than both Raekwon's and Method Man's put together, cause whether it's pusher stories or braggadocio, GZA does it so methodically that he kind of picks it apart and puts it back a bit unheimlichly different - it's not a jolly album.

Beatwise, this is probably the best Wu-Tang affiliated album I've heard (anyone who really knows how many albums they've got out there?), and yep, that's including Enter The Wu-Tang (36 Chambers).
I don't really know why I haven't got this on vinyl.