0493. Janet Jackson
Rhythm Nation 1814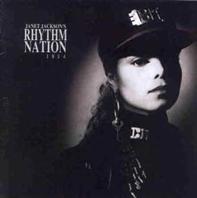 Is this the first new jack swing on the list? Quite possibly so, but that's not the only genre that's stuffed into this hour of pop. There's some pretty metal-y guitars too.
Janet Jackson's fourth album continued from the previous by having her somewhat at the helm, deciding the concept and co-writing chunks of it.

The realization I have a hard time hearing just what she sings cause she just sounds so sugary sweet is a bit of a downer, cause I'd like Livin' In A World (They Didn't Make) to hit me just as hard as it was meant to. I mean a song about a school shooting isn't exactly what you'd think of when you think of Ms Jackson.

Wanting to make a bit of a more socially conscious album she might not have changed the world, but surely inspired a couple of people and definitely managed to create teh first album to have seven top five Billboard hits. Among them were Black Cat and Miss You Much as well as the the title track.