0482. Pantera
Vulgar Display Of Power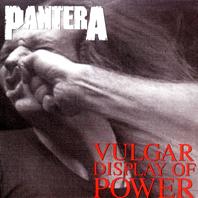 This is fight music.
It's aggressive, adrenaline-pumping fight music.
It's blistered vocals with abrasive lyrics.
It's searing guitar with a crushing rhythm section.
It's five minutes in the steel cage of Walk.
It's anti-social.
It's a six minute torturous ballad called This Love.
It's the inside of a prospective serialkiller's mind.
It's four Texans in a band.

For real, the album title sums it up. This is for the most part such a blatant act of aggression that any mild mannered person would rather watch the opening scene of Saving Private Ryan (coincidentally a 27-minute scene and thus just as long as the first, and heaviest, six songs on Vulgar Display Of Power).

The downside (apart from, well, the hate thing) is the crafting of some of the lyrics (rhyming self with shelf doesn't fly, and doing it more than once?), that the songs seem weaker on the second half (maybe it's just that the ears are getting used to the abuse?), as well as the pseudo-rap that appears on No Good (Attack The Radical).

But anyway, going from hairmetal to hatemetal was probably their best move carreerwise. Still, maybe Dimebag Darrell would have been happier as a washed up glam-rocker than as a dead metal legend as he, some years after Pantera disbanded, got shot on stage by a demented fan who blamed him for breaking up the band.