0471. Willie Colón & Rubén Blades
Siembra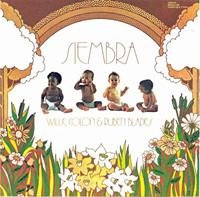 Siembra is a team-up between Nuyorican trombonist Willie Colón and Panamanian singer Rubén Blades. As well as being the (at the time) best selling salsa album ever, it also contains Blades' greatest hit, Pedro Navaja, with a narrative loosly based on Mack The Knife.

And that's about all I guess you need to know, cause either you're a salsa-fan and already on the way out the door to get the album, or you're not a fan and have already moved on to another page.

But as I've got a mission (albeit self-imposed) I'll continue for the few of you still reading:
I got pretty fooled by Siembra, cause the intro of Plastico is surprisingly funky for a salsa, but as it pans out, it's not meant to be part of the rest of the song, and on the album it's (sadly) an anomaly.
While the salsa itself is timeless (I'm still amazed that it came out in '78), I'm not so much of a dancer and thus do not get as enticed as I probably would if I were a true salsero.