0469. Massive Attack
Blue Lines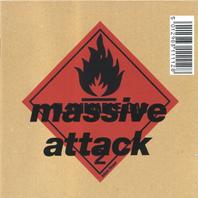 For a while changing name into just Massive (as they didn't feel it was appropriate calling themselves something with attack during the first Gulf War), and crediting Neneh Cherry for getting them into the studio (Cherry herself appears only on the last track, Hymn Of The Big Wheel, as backing vocalist), Massive Attack succeeded in bringing a whole new sound to the round table called music.

What they created was one of the slowest dance albums in history, with breakbeats no faster than 90 bpm, but often much more mellow. And with Tricky Kid as guest on three tracks (the ones with the burgeoning trip hop sound), it just can't go wrong.
The album's weak points though are some of the tracks with Horace Andy. I can't exactly pinpoint it, maybe it's something with his voice or it's something about the beats he's on, but...

Luckily, a weak track on this album is a pretty strong one on any other one.