0460. Elvis Costello And The Attractions
Imperial Bedroom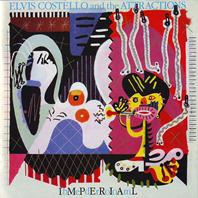 Gone are the energetic three-minute pop-hits (possibly they left along with former producer Nick Lowe). As Costello and company returns for the fifth time, it's with a refurbished sound that, mostly, isn't unified at all, but instead gives a shattered view of the band.

There's almost nothing here that recalls This Year's Model or predicts Brutal Youth (or, well, yeah), but at times merits of albums past shine through. Mostly it happens in the reggae toned tracks while it's expertly avoided by adding a stadium-rock-type-sound or just an extremely slow feel on others.

The slow sound of the album makes it feel almost twice as long as it really is, and that's not always a good sign of an album you "must hear". Thus this is an entry I'm chalking up to the 1001 Albums-authors' OCD to get every album by their personal favorites in.