0444. Elvis Costello And The Attractions
Armed Forces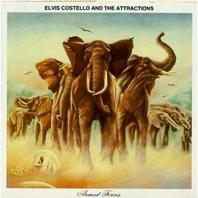 Costello's back for the fourth time, with his third album, and the second outing with The Attractions (also, it's the first where they got billed on the cover). Not as great as This Year's Model, but better by far than My Aim Is True (The Attractions were obviously a good influence on Costello), Armed Forces sports a gang of good songs, but some of the B-side songs aren't ...well, let's just say they weren't released as singles for a reason.

Best in show though is album opener Accidents Will Happen, followed by the anti-occupational Oliver's Army (the latter, by the way, is his highest charting song ever). On these Costello and the gang do some of their best work bringing together sixties-style pop melodies and a punk feel.

An okay album, with more good songs than the average, but also some that are really forgettable.