0432. Curtis Mayfield
Super Fly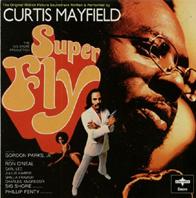 From one of the most iconic blaxploitation movies comes one of the most well-written soundtracks. Super Fly is the story of a drug-dealer trying to get out of the game - just one last big score first - and the soundtrack is almost too perfect (and the movie producers probably would agree as the soundtrack sold better than tickets for the film).

It's of course soul-funk galore with Mayfield's velvet voice guiding us through the dangerous streets and back-alleys of the ghetto. But where the movie sometimes make the grey areas a bit too easy to misunderstand, Curtis always pulls through, exposing the downsides of pushin' dope and living the gangster's life.
Just like on (There's No Place) Like America Today he's in it for the possibility of progress, and the music he laid down took both singles, Freddie's Dead and Superfly to high places on the charts (but I got to say that Puherman is the best track on the album).

To create a custom soundtrack is an art in itself and when Curtis devotes his time to it, it's just beautiful.