0402. Chemical Brothers
Dig Your Own Hole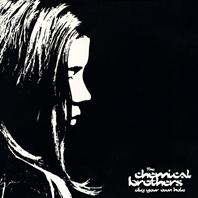 Second time around (just over a year, actually) for the Chemical Bros. and this time it's more of the same, but a bit better (and yes, a bit more).
They've stripped away most of the low-points from Exit Planet Dust and gone for what they do best: big beat techno.
Well, I said "most" as they, once again, bring in Beth Orton to sing on a slow tune. And just like Alive Alone it's a snoozer.

The big conundrum though, is that their collaboration with Noel Gallagher (of asshole band Oasis-fame), Setting Sun, actually sounds good. Maybe it's him getting away from his double douche of a brother or maybe the Chemicals' put a anti-douche filter on the vocal track, but it sounds good.
Best on the album however, is Piku., so while everybody else goes clubbing to Block Rockin' Beats, I'll be here, with the headphones on, typing away.