0381. The Byrds
Sweetheart Of The Rodeo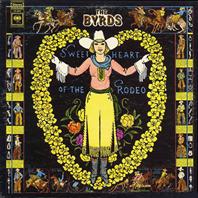 Disbelief. There, I summed it up in one word. The Byrds must have gotten a lot of that at the time of this albums release. I mean, who'd believed that they'd go from playing sixties' psychedelic rock to playing bar-room country in the same year? It all gets explained when it's revealed that, once again, Gram Parsons had a thing or two to do with the sound as he'd joined The Byrds just a month prior to recording (and also left / got kicked out a month before Sweetheart Of The Rodeo's release).

And well, this is Parsons' album alright. Aside from making sure the album was country rock he also has more writing credits than any of the other band members (he's got two songs, the rest got zilch).
Flying high like a lead balloon this album failed to chart, alienating their hippie fan-base and being rejected by the conservative country crowd. But Parsons moved on and formed The Flying Burrito Brothers together with long-time Byrds-man Chris Hillman. Nice job breaking up the band, Parsons.

So okay, it's an influential country rock album and it's an okay listen, but honestly? It's a bit of a drag.