0357. LL Cool J
Mama Said Knock You Out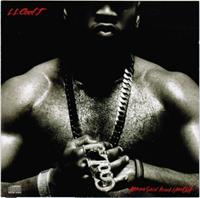 Ladies Lovin' Cool James had a slight problem. Even though his previous album, Walking With A Panther, had sold well, critics said he'd gone soft, just focusing on the ballads for the honeys. So: what to do?
Strike back with an album filled with machismo of course! With an instaclassic in the form of the title track (and a track or two about love) it's just not possible to lose.

The first track, The Boomin' System, is a celebration of loudspeakers mounted in trunks of cars. Why? Cause it's cool of course and makes a good track. and the album's about evenly divided between the represent/braggadocio rap and storytelling. An example of the latter is Cheesy Rat Blues - the story of the failed rapper: the one who had it all and never saw the bankruptcy coming. And while it's not the greatest track there's a couple of rhymes that are comedy gold ("I go to the park, they wanna baseball-bat me / I go to the mall, they throw my old tapes at me") and I like the references to other tracks on the album.

But at the last slot there's The Power Of God, a tribute to the man upstairs and a diss to the ones who don't follow the commandments - which LL's of course broken in, well, all of the previous tracks. Coincidentally it's the most boring track on the album. But other than that this is a headbanger.