0341. The Slits
Cut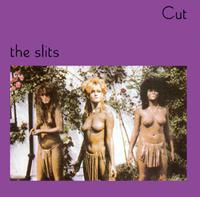 First off: I just wonder who the hell came up with the idea of them being half-naked covered in mud on the cover? [fact check: apparently the band themselves, or rather three of the members - a decision which made the fourth quit [HOLY SMOKES! She's become a born again Christian turning her Slits' songs into praise-hymns!! Isn't there a law against it?]]

Okay then, The Slits formed at a Patti Smith gig (by the way: congrats, Pat, to your Polar Prize) and within the year were on tour with their mates in The Clash. Generally they weren't the most skilled musicians or songwriters, but there are a couple of tracks that's just wow.

FM, for instance, not only reminds me of Magazine, but also manages to differ so much from some of the toher tracks (like Typical Girls) that I at times wonder if it's even the same band. Cause unfortunately the production often takes a whole lot away from the sound and I think this album would have gained a lot if it sounded more dirty, more live.
Anyway, it's an interesting listen, I'll give'm that.