0322. Coldcut
What's That Noise?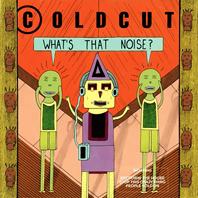 The fastest way to lower the expectations on your album? Start with a house-track.
And this DJ-duo does just that. Which ruins my mood.
But as the album progresses it pick itself up by having some more acceptable tracks and then some quite good ones too - sadly for the Coldcut-boys it's the remixes, which means that they didn't get it right the first time.

Luckily I got hold of the U.S. release, so I get to hear Queen Latifah rapping over the previously instrumental track Smoke 1 (now renamed Smoke Dis One). Not the greatest track, but cool too hear.

The track Doctorin' The House (Say R Mix) is probably is best known as the break to a lot of MTV segments (back inna day when MTV aired videos) and for containing a sample of Im Nin'alu by Ofra Haza (also used on their remix of EricB. & Rakim's Paid In Full) is, along with the sample-fiestas of Beats & Pieces (Mo Bass Remix) and Stop This Crazy Thing (Hedmaster Mix) the best on the album and in the latter ones we can clearly hear where acts like The Avalanches got their influences. Pretty neat stuff actually.