0301. Faith No More
The Real Thing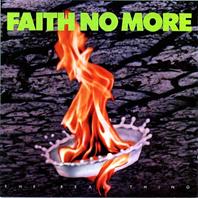 After thirteen member-switches, two (good) albums with then fired singer Chuck Mosley (the last of six previous singers - his predecessor was Courtney Love by the way) they took on new singer Mike Patton and released The Real Thing less than six months later - an album that made such a splash that contemporary giants Metallica and Guns 'n' Roses named Faith No More as one of their favorite bands.
It's also one of my favorite albums of all time and here's why:
It starts with a blast as From Out Of Nowhere kicks it into overdrive from beat one and the album might mellow down a bit in some tracks, but it never gears down.

Two genres that history's spat on, the not quite subtly named rap- and funkmetal of course has dwindled into parodies of parodies, but by the time of its inception it (apart from launching the now tired Red Hot Chili Peppers) produced such epic tracks as Epic - the first song I heard from FNM and the one that got me hooked for life (as well as featuring a video mocking the styles of hair metal bands), and Falling To Pieces, which features back to back on the album.

I feel I could go on, delving into each and every track, referencing connections to Cliff Burton (Surprise! You're Dead!) or explaining the theme of Zombie Eaters, The Real Thing or Underwater Love and picking The Morning After apart for its inner meaning, but since I guess it'd get too winded I'll just leave it wordless like Woodpecker From Mars and try to finish this in a paragraph or two.

Best thing about the CD version? It contains War Pigs and Edge Of The World, where their version of the Black Sabbath song isn't better than the original, but they do a good job (and when the band was on hiatus a couple of years later, drummer Mike Bordin got picked to play in Ozzy's band, so it can't have been all bad), and the last song is an uncomfortable narrative from the darker recesses of humanity put to a soft, swinging tune (which they performed live on Yo! MTV Raps with Ed Lover and Doctor Dré as backup singer).

And yes, of course this is a GotToGet, and if you don't know why I think it's best if you sort of turned your computer off and sat in the corner for a while.