0268. Aerosmith
Toys In The Attic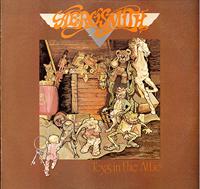 An album that's about as full of innuendo as possible, but in most other aspects competent rock, Toys In The Attic sports just a couple of standout songs. Number one is Sweet Emotion, the song that probably saved their career and made this one their best selling albums. A good song with a nice bass and talk-box intro (sadly omitted on later reissues).
Also there's Walk This Way, in later years probably more known for the version Run DMC made (which launched the rap-rock genre and also is my very first single).

As a bonus among the tracks there's Round And Round which is a sort of heavy metal-ish track with a scent of their previous hit, Dream On.

Back to the innuendos (or is it "in your end, oh"? (thank you, Benny Hill, for that one)) it doesn't get more overt than in their cover of Bull Moose Jackson's Big Ten Inch Record, which is a rather silly number, at least in this version, and could have been left off the album.