0263. Cocteau Twins
Treasure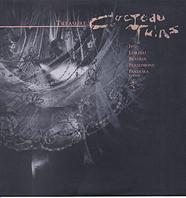 Okay, so I've been cutting the eighties down a lot on this list and I've been kinda harsh (but you know I'm right), but just to show that I'm not an eightist the Random Page Generator chose Treasure by the Cocteau Twins.
An album that at times sound as if the singer is talking in tongues and the whole vibe of the album is the logical continuation of The Dreaming.

It subsequently is denoted "dream pop" (well, at least by someone on Wikipedia) - a label actually more misleading than the "alternative rock"-stamp the Cocteau Twins also sports.

This is damn hard to define, but the obfuscated lyrics, high-quality production and wonderful melodies makes this an almost-Got to Get with massive bonus points for just being awesome.
Double bonus for giving the songs proper names. Almost feels like I'm being introduced to ten very pleasant new friends (a sentence which I of course within a second of typing it realize is an embarrasing music criticism-staple, but hey, I'll go with it).