0260. Devendra Banhart
Rejoicing In The Hands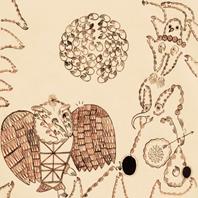 Well, speaking of artistic overtones: when I started to read up on Devendra before listening to this album I thought Rejoicing In The Hands would be shock full of 'em, but this is more in the neighbourhood of Nick Drake (a happy one at that). Also he's probably the only one on this list we'll see that's named after a Star Wars character (his middle name is Obi).

With a mostly soft voice and with accompaniment by acoustic instruments he sings little stories and sceneries.
In some places he's got the vibrato of Joan Baez and combined with his occasionally too "wanna sound like the old 78-rpm:ers" singing-voice it's a bit annoying, but those instances aren't common and thus I give this the thumbs up.