0253. Sonic Youth
Daydream Nation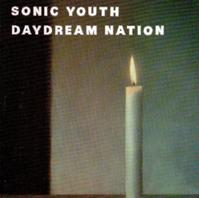 A double album both called their magnum opus (seems to be a lot of that going around) and chosen to be in the U.S. Library of Congress' National Recording Registry, i.e. so aesthetically interesting that it's to be preserved for all time.
And well, I understand that this is the face that launched a thousand ships, if the metaphor allows itself to an album and influencing boatloads of other musicians, but I'm not really getting the same nerdgasm as the kids in the congress.

Without a track like 100% this album by the Youths doesn't have the same commercial appeal, but at the same time it's a more even album than Dirty, so it gets an overall higher rating. The track Providence stands out with it's scratched sound (sounding like played on a 78rpm phonograph) and the monologue (provided by answering machine messages), at first I thought it was found sound, but apparently it's musique concrète. Either way it veers off from the path of the album in such a way I can't help but repeating it a couple of times.

But other than Providence it's only the ending triplet of Trilogy I'll remember off of Daydream Nation.