0240. Traffic
Traffic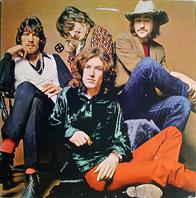 Traffic began as a psychedelic pop-group in the wake of The Beatles' success, but slowly moved on to a more personal sound. This, their second album, was also the second to last before they parted and went their separate ways (well, at least until they reformed and released another one).

Compiled of amongst others Steve Winwood (who feel more alive here than on his solo stuff, possibly due to him having to compete against Jim Chapaldi and Dave Mason in writing songs, but probably just because there's other musicians involved in the recording) it's of course a bunch of talented musicians, but I still can't really get into it.

Sadly it doesn't catch my ear this time, so I'll have to revisit it someday and take a re-listen.